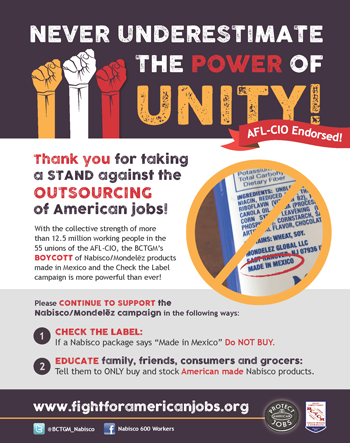 In 2016, Nabisco/Mondelēz eliminated 600 good, middle-class jobs in the Chicago area in a plan to outsource production to Mexico.
Since then, NALC members, other working people, students and community allies have come together from around the country (and around the world) to help our brothers and sisters in the Bakery, Confectionery, Tobacco Workers and Grain Millers union (BCTGM) fight back.
Each day, the Nabisco/Mondelēz campaign grows stronger thanks to the solidarity, combined efforts and collective strength of more than 12.5 million working people in the 55 unions of the AFL-CIO. The BCTGM-organized boycott of Nabisco/Mondelēz products made in Mexico and the "Check the Label" campaign are more powerful than ever.
You can show your support by continuing to boycott Nabisco/Mondelēz products labeled as "Made in Mexico" and by continuing to educate your family members, your friends and your grocers.
Visit fightforamericanjobs.org to learn more.